An essential component of SEO success is the underutilized function of rich snippets to generate more site traffic from the SERPs (search engine results pages) by improving the appearance of the listing, providing more information to the user, and increasing page visibility.
All search results compete for user attention. An attractive search snippet on the second position can get as many or more clicks as a poorly presented first result.
What are Rich Snippets?
A rich snippet is a small summary of the data that a user can expect to find on a webpage. They are microdata — HTML coded bits of information that make it easy for search engine crawlers to inherently infer from your website without having to click through to the result.
Rich snippets extract additional information, like photos, ratings and author information from your website to display in the search results, in addition to the typical page title, page URL, and meta description.
When a user reads these additional descriptions accompanying a link in the search results, they can naturally identify things like names, places, products, reviews and more. As a result, rich snippets add significant value to search engine results by dramatically increasing web traffic and click-through rates.
What Type of Rich Snippets Are There?
The ultimate objective for search engines is to create the best search experience for users, so they can find the most relevant results.
The more accurate, informative and on target the search results are, the better the click-through experience for their users.
Business Snippets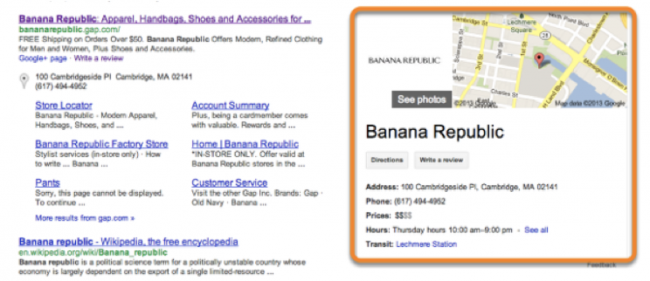 The business or organization snippet may include:
• Location information
• Contact information
• Price ranges
• Hours
• Customer reviews
Product Snippets

Google displays the information available from a web store's Merchant Center product feed. The product snippet includes the following:
• Picture of the product
• Product ratings
• Price range of the product
• Availability
Impact of Rich Snippets
Implementing rich snippets correctly can have a huge impact on your website's performance and can get you valuable exposure in the SERPs. This will, in turn, lead to more qualified traffic, increased conversion rates, and higher return on your SEO investment.
The use of rich snippets is a strong marketing tool for businesses eager to get noticed and to stay relevant amongst thousands of competitive sites.
Extreme Value Without Obligation
We are offering companies interested in growing their online business, a complimentary preliminary SEO audit (a $500.00 value). This audit will immediately help you identify and correct glaring SEO deficiencies on your site with specific fixes you and team can implement, or we can fix for you.
We provide value up-front, at no cost, and you are not obligated to do anything extra- although we would love to have you as a client. There will be no pushy sales tactics or manipulation involved.
An SEO audit is how we understand the health of your website and identify critical issues that may hurt your brand, web traffic and revenue. For qualifying companies, we offer a complimentary preliminary audit.
But be forewarned that the value we provide may compel you to work with us at some time in the future.
Sincerely,
Eric M. Clare, Director, DirectiveGroup
510.939.8005
550 North Reo St., Suite 300 Tampa, FL 33609