Numerous designers and web development teams construct error-filled and user-unfriendly websites that end up hurting their company's design integrity and the overall user experience. Furthermore, any value that can be found even in the best of SEO is harmed.
Marketers who are particularly attentive need to be aware of features such as navigation flow, layout design, page load speed, responsiveness, content length, and curation (as well as canonical meta directives). These elements ensure a more tangible level of quality across all phases of the website development. Addressing these facets throughout the website life cycle – from strategy to coding, content generation, custom graphics, and imagery – is one of the primary steps to ensure that internal quality matches external excellence.
Excellent online design is paramount, but you'll need to have your infrastructure in place too. The website should be fast and responsive and provide great search engine rankings at the same time. Here are a few web design tips to help boost traffic and increase conversion rates.
1. Ensure fast page load speed
In today's world, visitors expect a fast and easy experience while surfing the web. This means the 3-second rule should be used as often as possible to prevent users from leaving your website in frustration.
2. Design a site for mobile users
Did you know that there are about 275 million smartphone users in the U.S. alone? This represents a huge pool of potential customers who may visit your website using their mobile phones and tablets. Over 50% of adult smartphone users conduct a local search by using their mobile device, so if your site isn't optimized for mobile viewing, you'll be losing traffic (and customers) from this important source.
That's why Google has recently introduced something called "Mobile-First Indexing." This new algorithm prioritizes the mobile version of a website for indexing and search engine ranking. Mobile-first indexing means that if a website isn't optimized for mobile, it will have a harder time ranking on Google.
Not only that, but mobile-friendly sites are 5 times more likely to retain traffic by keeping visitors interested due to fast page loads and intuitive design.
3. Make it easy to find information
Navigation is one of the most important components of a great user experience. Keep things simple; the easier it is for your site visitors to find what they need, the more likely they'll be to convert.
Don't do this…
Site architecture affects how search engines ultimately understand your site. It's important to think about internal linking between relevant pages because doing so will help keep users engaged on your site and help Google bots understand where most of the traffic occurs. This ultimately boosts the SEO value of each individual page you manage.
4. Never put text inside images
Content that is presented in interactive formats, such as images, audio, and video, works really well for better engaging your visitors. While search engine spiders are efficient at identifying content by looking for keyword phrases within headings and the body copy, they cannot see images or videos embedded on a webpage.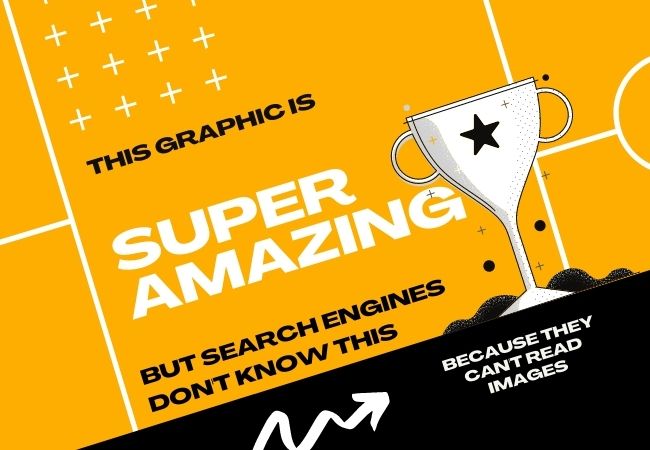 For this reason, you should never put your most important information into images. While adding a creative header image will make your webpage look amazing, it will do absolutely nothing for SEO value.
This leads us to the next tip…
5. Always use H1 tag and header tags
While headings play a significant role in helping your readers navigate webpage content, they are also critical to good technical SEO.
H1 tags tell search engine bots and website users what a page is about, so it's essential that they accurately summarize the contents.
Header tags (h1-h6) make it much easier to scan content. For the search engines, it becomes clearer what topics and sub-topics are covered on a page. For readers, headings break up long text strings and help quickly determine the most relevant parts of the content. These aspects tell Google how user-friendly your website is, which contributes to improving rankings.
Additionally, h-tags help users with limited abilities access and consume content on your site more easily. Accessibility is an important factor in search engine rankings.
6. Create an effective 404 page
A 404 page is often ignored and underappreciated. It might be the most frequently visited page on your website. However, it's seldom given any attention. This page presents a unique opportunity to win over your visitor by converting them into newsletter subscribers or encouraging them to continue exploring your website with relevant links that could eventually lead to conversion, including returning to the homepage.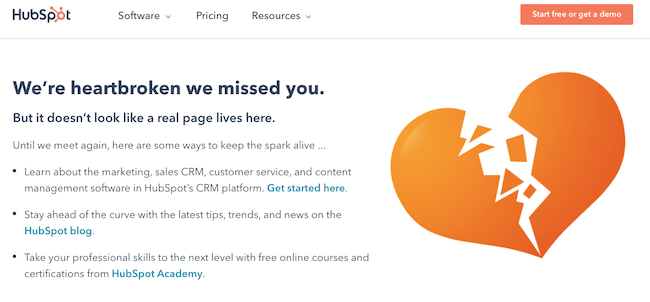 Make Web Design and SEO a Success for Your Site
You can't build a successful website without SEO, and you can't have effective SEO without a great-looking website. This does not mean that one is more important than the other. In fact, web design and SEO are equally important to ensure that your website attracts, keeps and converts users into loyal customers.
Both the design and SEO teams must be involved in the early stages of your website project. A full-service digital marketing agency with an experienced team of designs, developers and SEO professionals can ensure that the end result meets your business objectives and provides the best user experience for your ideal customers.
Next Step
Contact us to discuss your goals and ideas with the digital marketing team. DirectiveGroup has over 15 years of experience helping B2B and B2C companies grow online. We'll develop and execute a cohesive marketing strategy and see your project to successful completion.