WISHING YOU A VERY SPOOKTACULAR HALLOWEEN!
The night is dark and the goblins are out and the witches and black cats are prowling about and costumed creatures, the strangest I've seen, are knocking on doors 'cause tonight's Halloween!
3 Content Strategies That Will Still Work In 2015
By Mark Bowen
Just about every business is familiar with SEO and Pay Per Click Marketing (I'm sure you've received many calls and emails to inform), but many business often ignore or dismiss simple, but effective content marketing strategies that can attract customers and help build your brand. With 2015 just around the corner, technology has presented marketers and business owners with effective options in a variety of mediums from video to audio and images. Yes, I realize it's still a little early to talk about 2015, but the New Year is my favorite time of year. Here are three marketing strategies that you should evaluate for the New Year: Read More.
Programmatic Advertising - The Good, The Bad And The Ugly
By Kim Figor
Increasing in popularity, the 2015 online marketing buzzword is predicted to be Programmatic Advertising (AKA – Automated Buying, Programmatic Marketing, Machine-Based Buying and many more). As you may have noticed, the internet is plagued with even more definitions of Programmatic Advertising than there are AKA's. To ensure we are starting from the same place, I will be talking about Programmatic Advertising using Google's definition. Read More.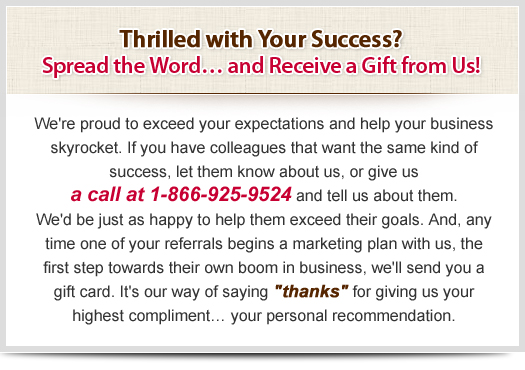 Will 'Marketing Eat Sales' In B2B Companies?
By Lisa Maier
From time to time, team members will share their views stimulated from a piece by an industry thought leader. Here, our CEO, Lisa Maier, discusses a recent Marketing Automation Panel Discussion reviewed by ChiefMarTec.com.
This is a question that strikes at the heart of the terror B2B sales executives feel when they consider the ever-encroaching, destroys-everything-in-its-path, relentless unfolding of eCommerce. And does the focus on this question prevent large forward strides by otherwise forward-thinking companies? Read More.
Why Testimonials Are Important
By Erin Haynes
A testimonial is a written or recorded statement that supports your company's credibility and level of expertise. When testimonials and reviews are correctly executed, they increase responses for a business. Testimonials from your customers play a critical role in the presence of your business as well. Any time you have a positive interaction with a customer and they express an interest in your business offerings, that is a good time to ask them for a testimonial. Testimonials are not only about selling your product or services, they are also about your successful, positive interactions with people. Read More.
Incredible Results
See how a multi-site orthopedic practice was able to see amazing results with a LocalDirective Integrated Marketing Program.