How to Write Content That Connects
By Mark Bowens


The phrase "content is king," isn't hyperbole. A look at Alexa's top sites, as of June 2014, reveals that nine of the top 10 websites are driven by content. There are five search engines, three social media sites, and Wikipedia. The lone holdout is Amazon, but even Amazon provides content through relevant product recommendations. The numbers say it all; you need to deliver content that matters—to matter at all. What the numbers don't explain is how to write content that connects with your clients.

To highlight why relevant content matters so much, it's helpful to consider what happens when content doesn't connect. At the level of lead generation, if you're unable to connect with your prospects, you don't get the time of day. If the content in your sales letter or website doesn't connect, you don't get the customer and you miss out on an opportunity to grow.

Even worse, when you aren't delivering content that customers connect with, you're wasting time and resources. If you're creating the content, you've lost time that didn't go into your business. If you hired someone, you've spent money and wasted time hiring that person. With time and money as the scarcest resources in most businesses, you can't afford to waste them.
Read More.
Is Your Unique Value Proposition Killing Your
Landing Page?
By Larry Lembcke

Landing pages are one of the oldest tricks in the book when it comes to internet marketing; marketers have been using them since the dawn of the internet to entice users that their product is worthy of your hard earned dollars. As common as this knowledge is, there are still a surprising amount of users that fail at landing page optimization!

I recently read an article from Rich Page about landing page optimization and unique value propositions. The whole article is great and goes into detail about the steps a user should go through to optimize their page. I really like his list of "no exception" clauses to include in your value proposition: Read More.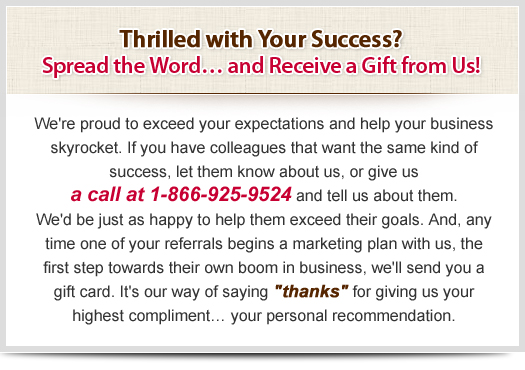 Why Every Business Should Incorporate
Infographics into Their Marketing Strategy
By Paula Jacobs



Before we discuss the benefits of infographics, we must first look at what they are. An infographic is a set of ideas and data that is shared in visual form. These are usually very complex ideas that are too heavy for most individuals to understand. When you share them in a visualized form, they are more easily understood. People will pay more attention to them that way.

These come as a great tool for any kind of business. Using infographics can do wonders to increase your client base, as well as your traffic. Let's take a closer look at the benefits of using a tool like this.

1) 90% of all the information a person receives is visual. That is why more businesses need to use this tool. If they did, more clients would pay attention to what they were saying. A client doesn't want to read some boring memo about what the company is selling this week. The client wants to see a visual of the sales. They want to see the product. Most people can tell instantly, upon looking at the product, if they are going to buy it or not. Read More.
What I Learned from Visiting a Hotel…
Err… Hospital
By Joshua Decker


None of us like it when something unexpected comes up, like an unexpected health issue or hospital visit. I recently had one of these such experiences, and during my short stay, I learned a couple things that are perfectly applied to businesses looking to build their business.

We All Know What We Want… But Don't Always Know How to Get it

When it comes to hospital visits, we all want to the same thing…to get healthy and get out. When it comes to a business, owners and executives all want the same thing: more business and growth. The challenge is, in both cases, we don't always know how to get it. That's why we surround ourselves with people who know more than we do, and can guide us toward our goals. Read More.
The Three Reasons You Need a Marketing
Technologist Now
By Lisa Maier


Prior to starting an online marketing agency in the mid-2000s, I was a business strategist, first for one of the top consulting firms, and then later for a smaller, more focused company. My grounding is in business intelligence but my heart has always been in marketing. Well over a decade ago, I worked with Fortune 50 companies, and what my company brought to them was a unified blend of technologists and business strategists. The value of this was that there'd be no strategy developed that was not technologically feasible, and that technologists, once understanding the business strategy, would be able to suggest new technology solutions that wouldn't have come to mind had we followed the then-common linear process of strategy first, technology solutions second.

That approach really resonated with me. And, as we worked with some of the world's largest companies on technology-based solutions, I saw the fruitfulness in action. I came with this mindset when I started LocalDirective.

However, I believe the time has come that no company can any longer consider it optional to have marketing and technology marry, in some form or fashion. Consider these reasons:
Read More.
Incredible Results
See how a multi-site orthopedic practice was able to see amazing results with a LocalDirective Integrated Marketing Program.