Is Your Content Marketing Strategy Working?
By Paula Jacobs


Without Google Analytics to measure your content marketing strategy, you wonít have enough information to make informed decisions. Google Analytics not only tells you how many people are coming to your site, but which keywords they used to arrive there. It will let you know where most of your traffic is coming from and also what platforms need to be supported more. For instance, you might be getting a sizable portion of your traffic from smart phones, in which case it would be a good idea to make your content mobile-friendly.

Quality Content Is Even More Important Than Before
With the Hummingbird and Panda Google updates, the need for quality content has only increased. Content needs to be informative, engaging, and also seeks to please Google and visitors alike. Instead of less content, more is needed to make an impression with Google, however, too much of the same content in one area and you could be labeled a spammer. Instead of focusing on just your website, you will need to expand your content marketing initiative to other sites, like Google+ and article directories. The more quality content Google spots with your author tag, the more likely they will count you an expert in that topic. Read More.
Grow Your Business with a More Productive You
By Mark Bowens


Traditionally, productivity tips come in the form of creating a better to-do-list. Weíre not going to do that today, I promise. Lists are important, but being a productive business person entails so much more. Things like managing your environment and energy reservoirs are often overlooked, but for an entrepreneur, business owner or CEO, all of these things are critical. Itís been my experience that being productive is the result of being a high performance person. Not just a producer.

Here are a few tips Iíve learned along the way on high performance and productivity, all which Iím still learning to master:

Take Care of the Machine

You may work yourself like a machine, but if you donít take care of your body and mind, your machine will break down. A car needs gas and maintenance to maintain functionality and you need food and rest. You can do nothing and ride the car until the wheels fall off. That usually is a more costly route do to expensive repairs. Repairs that are a result of neglect. Donít neglect your machine. Getting the proper amount of sleep and nourishment is essential for maximum productivity. Of course you can deprive yourself of sleep and still get things done, but youíll operate at a sub-optimal level. Who wants to do that? It will be harder to do simple task, youíll forget things, and it will be much more difficult to focus. Productivity starts with a well-rested and nourished you, so take care of the machine. Read More.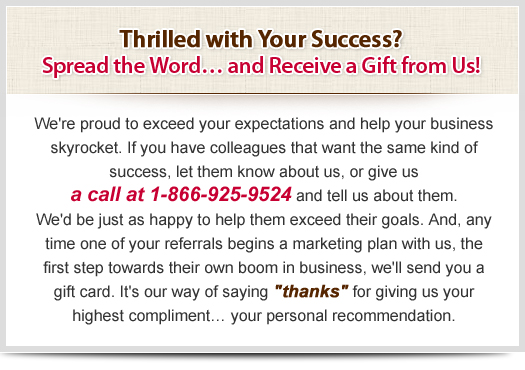 Creating an Email that Creates Response
By Kevin Creighton



In a world of social media and other online marketing channels, email marketing remains an effective way to communicate with your audience. Facebook, Twitter and Pinterest bring new opportunities for engagement, however, according to the direct marketing association, email marketing is set to get even bigger this year, with upwards of $2 billion projected to be spent on email marketing in 2014.

Listen to What the Numbers Are Saying

An email marketing campaign is not a one-way conversation: A professional email marketeer should be able to listen to response rates and unsubscribes in the same way a good conversationalist responds to how his audience is reacting to his story and adjusts accordingly. Just like a conversation, an email campaign that starts off with a needy, demanding ask like "BUY NOW!" will be ignored. Read More.
Is Your Marketing Going to Take Off?
By Joshua Decker


Face it: everyone has a limited marketing budget. While one limit may be higher than another, everyone has a limit at some point. The question for every marketing program will inevitably be: is this going to pay off?

This is a fantastic question, and one that needs to be addressed closely before the launch of any campaign. However, itís not as easy as looking at the cost of a product or service and the cost per click to determine the immediate value and if the marketing is going to pay for itself. Here are several steps you should consider as you think through any marketing program or campaign.Read More.
Incredible Results
See how a multi-site orthopedic practice was able to see amazing results with a LocalDirective Integrated Marketing Program.