If you are doing B2B marketing, you may already know that LinkedIn can play a colossal part in your success.
There is a reason that 94% of B2B marketers choose LinkedIn as their first choice for content distribution. While Facebook and Twitter are also important, over 50% of B2B social traffic comes from LinkedIn. Additionally, people interacting on LinkedIn have twice the buying power as four out of five LinkedIn members have buying power.
10 Reasons Your Business Should Be Marketing on LinkedIn
There are at least ten reasons that LinkedIn needs to be part of your digital marketing plan.
Create awareness
Improves reputation
Provide thought leadership
Connect with industry leaders
Improves qualified lead generation
Make connections
Research clients and competition
Identify potential customer activity in real-time
Build traffic to other platforms
Gain market insights
Spend time using the tools available on LinkedIn to connect with others. You should regularly be commenting on posts within your industry because it promotes your expertise and creates brand awareness. Be a servant leader to show that you have the interest of others at heart. But before you start engaging with others, invest a small amount of time optimizing your company's LinkedIn Page.
How to Make a Great First Impression with Your Company's LinkedIn Page
Check Your NAP: Name, Address, Phone
Be sure that your name, address, and phone number are on your company's profile and that they match what is used in other places on the internet.
Create a Customized LinkedIn URL
At the time when you created your page, LinkedIn assigned you a generic URL. It is a string of numbers that are almost impossible to remember. You can and should request a customized LinkedIn URL so that customers can easily remember it.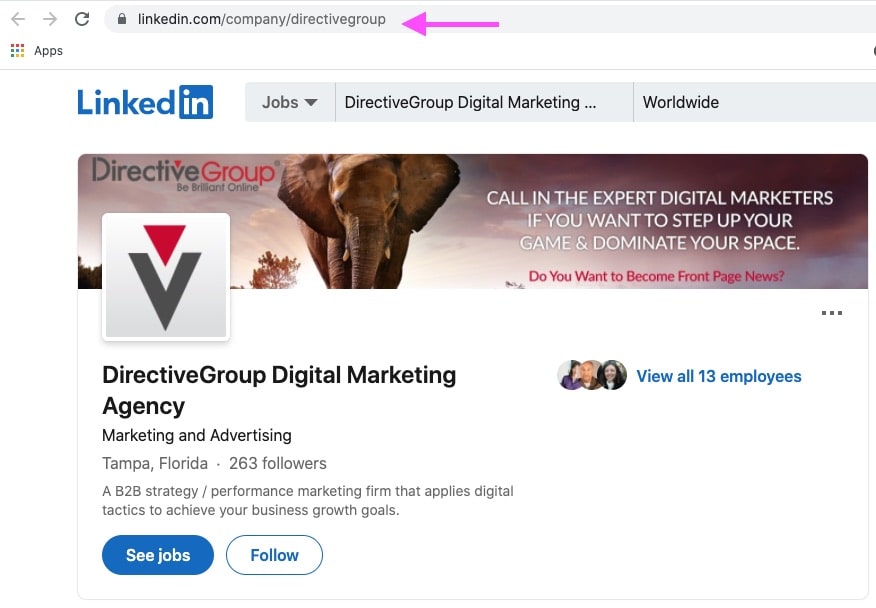 Add a Meaningful Description
Your company description and specialties are what LinkedIn uses to send organic traffic to your company profile, so ensure that it is filled out accurately with keywords.
Update Your Images
In particular, your header image should grab a viewer's attention and make them want to find out more. Some companies experience success in putting a call-to-action banner in this image. Using this LinkedIn strategy encourages people to click on your profile and can be key to growing your organic traffic.
Write an Attention-Grabbing Headline
After clicking on your profile, one of the first things that the viewer will see is your headline, so use this space to soft-sell your company.
Use Keywords
Naturally, use your keywords wherever possible. However, pay special attention to the first few words of your company's description as this will be the first thing that users see across devices.
Create Showcase Pages
You can have up to 25 showcase pages. This gives you more real estate and can be a great way to attract different target audiences.
The Nitty-gritty of Using LinkedIn
If you have followed the eight tips above, you are well on the way to using LinkedIn to build your company's presence on LinkedIn. Yet, there are some specific techniques that you need to apply to make the most of this platform.
Attract Leads with Content on LinkedIn
The average user spends only 11 minutes on LinkedIn per month, so it is vital to use the right digital marketing strategy to make them spend some of that time interacting with your company if your B2B marketing is successful. Try these LinkedIn strategies:
Share quick videos from YouTube to LinkedIn
Create visually engaging short text-only content.
Keep the social in social media by engaging with people, especially in LinkedIn communities.
Promote directly on the platform without asking people to go to your site or anywhere else.
Hunt for Leads on LinkedIn
Hunting for leads on LinkedIn is easy using the advanced search feature. Use the search for people feature and apply filters based on your target audience. The platform will then generate a list of people who fit your criteria. Next, engage with these prospects.
There are several techniques that you may consider using, including:
Engage people without pitching them
Create and share industry news
Be authentic and show your personality
More Lead-hunting LinkedIn Techniques
While you should use the search feature often to find sales leads, there are other ways that you can use LinkedIn for lead generation, including:
Contact individuals and companies who have viewed your profile.
Engage with the people and companies who have endorsed one of your contacts.
Create a sales navigator profile and let LinkedIn recommend leads to you.
Post frequent updates and let your prospects come to you.
Share someone else's content.
Be an active community participant.
Give referrals to your network.
Engage with the people on your content relationship management software.
Succeed at Social Media Marketing on LinkedIn
When you are developing your LinkedIn strategy as part of your social media marketing, there are some overarching criteria that you will want to keep in mind.
Keep Your Company Profile Current
If you are like many companies, it has been a while since you updated your profile. Invest the time to update your company's profile and your key executives to reflect your current company. Ensure your image and your headline showcase who you are as a company today.
Show Your Audience Why They Should Trust Your Company
Someone within another company has shown enough interest in your company to at least search for it. Prove that you deserve their trust by being authentic and promoting the facts that support your opinion. Featuring the work of others allows others to feel like they know and trust your company. Comment on posts with thoughtful comments so that others start recognizing your name.
Be Consistent
LinkedIn as part of your social media marketing cannot be a hit and miss. You need to consistently be showing others that your company is active and reliable.
Use the Site's Many Features
There are many features on LinkedIn that allow you to find new leads. First, make sure you are regularly using them. Then, see which features provide the best tips for your company and do more of them. Options include hashtags, community groups and advanced searches.
Get Help with LinkedIn
Using LinkedIn as a lead-generating tool requires a sound strategy, experience and time. We are here to help you along the way.